---
Saturday 27th March 2013

QuickSnooker Quadcopter Promotion
OK this is a bit random, but this month we're giving away Hubsan X4 Quadcopters.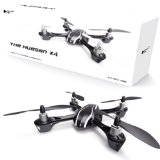 These babies are a LOT of fun - you can fly indoors or outside - at heights of 150 metres and speeds of 25mph.
This palm sized marvel will take an awful lot of punishment making it ideal for beginners and experts alike. Everything you need (apart from 4 AAA batteries) is in the box - including the flight battery, USB charger lead and 2.4ghz radio control. Here's me - flying mine
For a chance to win simply install QuickSnooker - and set your email address under 'Internet Play','My Account' in the menus.
The Small Print
We're giving away 1 quadcopter for every 50 sales we make between the 27/04 and 27/05
An additional 'copter is allocated to the 'download only' (no purchase) draw.
Each purchase of £5 gives you 1 entry into the draw - a pro-bundle for example gives you 5 entries.
NEW accounts with email addresses (i.e. downloads) are automatically entered into the draw - the winner(s) will be notified by email.
Entries will be drawn at random, winners announced here in the news section by player name on 01/06/2013
---
Sunday 10th March 2013

Small error in gallery function found.
We discovered that shots that are saved in the gallery, aren't stored with a correct GameID.
This means that they can't be played back.
We have corrected this error manually, to asure that all previous saved replays, can be played back.
If you want to store new shots in the gallery without a problem, please download the
full setup package
from the QS webpage and run it twice.
The first time it will uninstall the program, next time it will install it again. (no settings or statistics will be lost!)
The version number won't change and if you never use the gallery function, there is no need to follow this procedure.
---
Tuesday 19th February 2013

Another version of QuickSnooker (.948) has been released.
- Slight increase to guide lengths on pro/club levels
- Improved the accuracy of the guides when using spin
- Fixed some craziness with the 'Pro' computer opponent (playing wild shots and too hard)
---
Sunday 2nd February 2013

Another version of QuickSnooker (.945) has been released.
- Fixed a rare issue with red balls being pushed through the table (and a foul being called)
- Added a fix to stop balls going inside eachother on some very extreme shots - for example where the white drops onto the pack (from above)
- Smoother aiming on spin shots (especially noticable on low-end machines)
- Cleared out the Gallery - Added 'delete' buttons (on your own shots)
Press 'F1' to submit a shot to the gallery, Choose 'Internet Play','My Account' to view your private and public galleries.
- Added 'Take the cue' feature on gallery shots - Load a shot from the gallery and press 'ESC' to you can take the cue and make your own shot
---
Wednesday 30th January 2013

Another version of QuickSnooker (.940) has been released.
- Fixed problem with the AI (computer opponent) failing to respot the white if you went 'in off'
- Another fix for another scenario on the respotted black
- Added drag to 'soften' pocket leathers, improves middle pockets especially (balls with a lot of topspin tended to 'climb out' unrealistically
- Improved the playability of the 'orangery4' Pool table (reduced friction, increased power, easier pockets)
---
Sunday 27th January 2013

Another version of QuickSnooker (.937) has been released.
- Fix for 'object variable'/'StackButton' errors on startup (happens if you move the mouse when starting).
- More powerful swerve available in 'Pro/Club' mode (allowing for some pretty impressive shots).
- Slightly more effective stun, follow and side spin.
- Longer ball trails (see 'ball trails' in the 'aids' menu if you don't have switched them on already)
- Certain "annoying" pop up errors (you may complete your break etc.) have been moved to the help window.
- Fixes for respotting the black ball in the event of a draw [*] Balls roll for slightly longer.
- Fixed the scrollbar in the help window.
---
Tuesday 15th January 2013

To coincide with the Masters Snooker, last night saw the release of a major new version (7.0.920) - improvements to the physics and much more intelligent play from the computer opponent.
Try a game on the Pro level against the computer to appreciate both.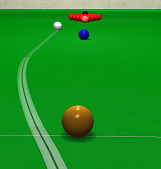 We've also reset the 'off-line' rankings, giving everyone (including the computer) 1000 points and a fresh start.
---
Thursday 3rd January 2013

A Happy New Year to all our players !
The Shot Gallery is back
You can now save your best shots by pressing F1 after playing them.

A screen will pop up allowing you to add a comment/descripion and to either share it with everyone, or keep it in your private gallery. Replay your shots (or other peoples!) by choosing 'Internet Play','My Account' in the menus and flip to the yellow 'Gallery' tab.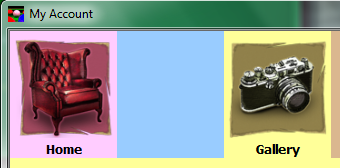 Please put up a few nice shots and tick the 'show to everyone' box.


---
Thursday 29th November 2012

Refocused the 'buy now' page and added 'help' for TouchPads
Well, this is supposed to be our busiest time of year - but the lack of any BBC Snooker Coverage has meant it's been very quiet.
We'd all like to see some fresh faces (and orders!) I've rejigged the buynow page to focus on the £5 60 day version to try and hook in some new members.
We're also seeing an increasing number of laptops, and people playing with touch-pads - which can be a frustrating experience - so I've added some advice in the help section.
---
Sunday 4 November 2012

Work continues
Today some work has been done on several reported issues:
- Saving notes in the player profile is working now again. (see image below)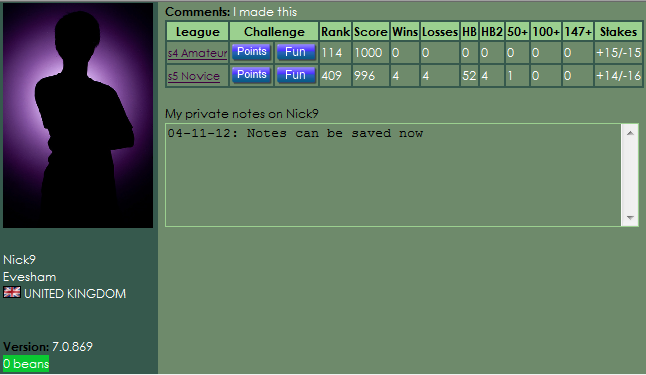 - Block function has been restored (BE CAREFUL !! Unblock isn't working yet)
- The layout of several ranking pages has been improved
---
Sunday 27 October 2012

Update for the network layer
Another version of QuickSnooker (.869) has been released.
This version can't be distributed through auto-update, so you would have to do the update manually this time.
Follow these instructions:
- Close QuickSnooker
- Download the latest installer from the QuickSnooker website:
QuickSnooker client .869
- Run the installer for the first time, this will
uninstall
QuickSnooker from your computer
- Run the installer for a second time, this will install QuickSnooker on your computer again
---
Sunday 7 October 2012

Update with changes
Another version of QuickSnooker (.862) has been released.
Sorry, It's been a while since any significant update - Most of our development work happens in autumn/winter.
The following things were fixed:
- This version fixes a bug in the private chat (the chat button in the waiting room). You should now be able to have reliable conversations - It's been flaky at best up to now.
- Computer Opponents leagues - back very soon - this version includes important support.
- Adding computers to your account and/or recovering your account after a reformat has been made even easier - see our help page
---
Sunday 17 June 2012

Clarification of the new challenge system
Last night there was a discussion about who is able to challenge on what levels.
To make sure this is clear to everyone, we made a table to explain:

Just to remind everyone, these are the prices for QuickSnooker subscriptions:
£ 20 - 1 year registration
£ 5 - 60 day registration
£ 5 - Pro upgrade (1 life time payment)
---
Saturday 16 June 2012

Update with changes
Last night another version of QuickSnooker (.828) has been released, which is the next step on our way of recovery.
The following things were fixed:
- Fixes - being able to chat in WR while being challenged.
- Fixes - wins not being recorded if you are the challenger.
- Removes the Challenge button at the bottom of the room, Challenge by first clicking the player to show their profile.
- This stops people playing on levels they haven't paid for and is a step towards rankings which are more fair to everyone.
Challenge options on an unregistered player:

Challenge options on a registered player:

Challenge options on a registered player with the Pro update:

---
Sunday 27 May 2012

Clawing our way back ...
You may be able to post a message or two in a room now - but we're far from up and running.
An update will go out in the next day or so which should bring everything much closer and tidy some of the mess up.
I still don't want to give definite timescales, but we
are
getting there.
---
Saturday 26 May 2012

More progress, online play is nearby
Message from the developer about the current situation, which is as follows:
I can get into the waiting room again and view my own profile.
Posting messages isn't possible yet.
I can get into 'my account' and edit and save my details
I can connect to the new .Net game exchange
So.. quite a bit of progress... but not quite able to play yet.
All this does need a new client, which will be distributed as soon as some form of basic gameplay is available. We hope and expect this to happen tomorrow.
---
Wednesday 23 May 2012

Slow but steady progress
Making reasonable progress, but realistically it's unlikey to be back on line tonight.
Mailserver is back online since a few days, so you can reach us at: support@quicksnooker.com
Download of the QuickSnooker client has been restored as well.
---
Wednesday 16 May 2012

QuickSnooker is still alive !
On Wednesday 16th May at around 11:30 UTC - A hard Drive in the QuickSnooker server failed.
Whilst the machine initially recovered, it was not possible to restart the SQL server service due to some file corruption.
At around 17:00 the disk crashed unrecoverably.
All bar one of the applications were backed up - unfortunately (it transpires) - I have two copies of the waiting room application and no copy of the game exchange/proxy server.
We have commissioned a new, faster server here in the UK - moving our service from our Hosts in California.
We expect it to take several days to restore the service, and re-write (in the process upgrading) the lost program.
Best case, it will be the end of this weekend (Sunday 20th May).
All paid accounts will be extended by the downtime.. so nobody is 'losing' anything, In fact you should receive a faster service via the UK server.
Sorry for the inconvenience and Thanks for your patience.
Nick and Clare
Please note, Our server also hosted our mail - therefore we are not receiving mail.
We will process any orders manually - customer support is available via clareax@googlemail.com
---
Saturday 31 March 2012

Centuries and 50+ breaks now displayed
Clicking on a player in the the waiting room brings up their stats, the table now features the number of 50's and 100's scored in each league.
These figures have been initialised with from the games played in the last 100 days.
---
Saturday 31 March 2012

Neary 4.5 million+ frames played
Well that's a good thing - but it turns out that 9 million results in a table start to clog things up a little - So I've had a bit of a clearout.
Results more than 100 days old have now been archived which should solve some reported issues with player stats taking a while to load.
Thanks to Yisc for raising it. Appologies for the downtime whilst it was sorted.


---
Sunday 20th Novemebr 2011

Computer opponents reset (again)
The balancing act with computer difficulty is ongoing leaving a few players 'between two stools' unable to play any level of computer opponent.
Until the next update - we've reset the computers scores, so everyone can play the computer for points again.
---
Saturday 15th October 2011

Computer opponent scores reset
The computer opponents for all leagues have been reset to 1000 points.
This should allow players at all levels to play against the computer - over time, the computer opponents tend to either climb, or sink too far in the leagues and require the occassional reset - so with the new season upon us, I've done it now.
---
Wednesday 6th July 2011

Nothing to report
Well, Summer is here, and it's always a quiet time for QuickSnooker - It's actively supported, there are still many games being played, and some development work is ticking over in the the background.
Things will pick up again early Autumn, but remember it doesn't matter when you buy your annual subscription as you'll get one of every month.