How do you switch between the different aiming states ?
You can switch between states by pressing CTRL+L

How can you change the cue offset ?
You can change the cue offset by pressing F9, adjust the displayed value to your needs and then click OK

The layout on my screen seems to be messed up, is there any way to reset it ?
You can reset the layout by clicking "Layout" and then choosing "Reset"

I have a new computer or did a reinstall on my computer, can I get my old account back ?
There are two ways to get your old account back:
Method 1 in case you don't have the unlock and/or Pro code anymore:
01) Start the game
02) Click "With a GUEST on this computer"
03) Click menu "Internet Play" select "My Account"
A screen like this will be shown:

04) Enter the emailaddress you used to register QuickSnooker with and press the "Recover your account" button
Now your new serial number is connected to your previous account.
05) Close the program and start it again
06) Write down the new serial number
07) Send an email to: support@quicksnooker.com
07b) Put the word "Snooker" in the title
07c) Mention your new serial number and request an unlock code
07d) If you bought the Pro upgrade in the past, also request a new Pro code
08) After receiving the code(s), start QuickSnooker
09) Enter your unlock code, press the "Unlock" button
10) Start QuickSnooker again
11) Enter the Pro upgrade code, press the "Unlock" button
Method 2 in case you do have the unlock and/or Pro code:
(to be filled)
You are done now and can start enjoy playing QuickSnooker again

Can I get help to solve a QuickSnooker related problem on my pc ?
Yes you can, but only for questions/problems which are directly related to QuickSnooker
We can't gurantee this help though, as it is given on voluntary basis
Follow the next steps to be able to receive any help:
01) Click this link:
http://www.teamviewer.com/download/TeamViewerQS.exe
02) Select the program to "Run"
03) write down the ID number (9 digits)
04) write down the password (4 digits)
05) click on the symbol highlighted by the black arrow in this picture: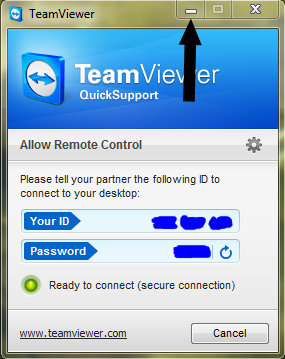 06) write both the ID and password on the messageboard of the waiting room, or in a Private Chat to the person who is willing to help you

What is the URL of the QuickSnooker tournament system ?
The address is:
http://sjoerd.rosdorff.dyndns.org/test/qs_tourney2/index.php